canadian puregas equipment limited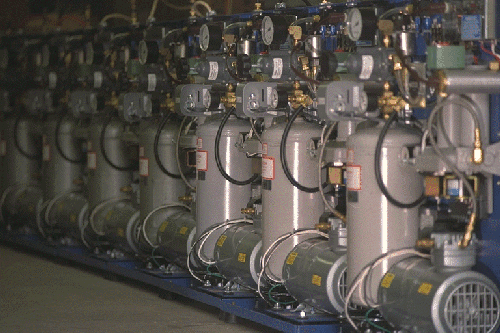 canadian puregas equipment limited
---
Quality of Parts
Canadian Puregas Equipment Limited is a supplier of quality pressurization equipment. The parts we supply to our customers are the same parts that we use in our drying equipment. Our parts are selected for their value. Our suppliers are selected for their quality supply and value. All our parts are tested before being sold to a customer. All replacement parts are selected for their quality, reliability and value. With over 30 years of experience supplying telecommunication companies we realize that we cannot survive by supplying parts of inferior quality. Some of our parts are more costly to purchase than our competitorís parts. The real value is in the quality. We specify only suitable materials to be used in the manufacture of our parts for the longevity of the part in the actual working environment. When our parts outlast the parts of the competition the cost of our parts is actually less. This also results in labor savings for the customer.
We not only do our own testing in house, we also do field testing of parts under actual working conditions with our customers. At present Canadian Puregas is the prferred supplier of equipment to most Canadian telecommunications companies, having passed their rigorous standardization and testing processes.
---
Delivery
Canadian Puregas Equipment Limited maintains a large stock of parts. We ship parts daily to our Canadian and international customers. We usually ship parts the same day as ordered and always by the following day. We stock parts in three warehouses across Canada to better service our customers.
---
Technical
We pride ourselves on our level of technical service. We have technical personnel available at all times and respond to technical problems called in from the field within 2-12 hours. Most problems are corrected with one phone call to our technicians. We respond to all problems be they simple or difficult, our equipment or the competitorís.
One reason for our high technical response is that Canadian Puregas supplies all the training of field technicians and managers to most of the telecommunication companies in Canada. This training is generic and includes all types of air dryers and is in depth. Our technical personnel are also our trainers and we regularly hold classes at our facility. All our courses are specialized to the customer and many courses are held at the customerís site for hands-on experience with their own equipment. We also write the specifications for maintenance of all types and models of air dryers.
---
Canadian Puregas Dryers
Canadian Puregas Equipment Limited dryers are quality built and reliable. Many features incorporated in our dryers have been developed from extensive field testing with our telecommunication customers. Below are some of the features that our competitors do not always incorporate and some features which are exclusive to Canadian Puregas dryers.
Complete testing of each and every dryer in actual running conditions for a full 72 hours prior to final quality acceptance and shipment.
Heavy duty electrical components and full size contacts and terminals for long life and fewer breakdowns. Simple and rugged circuit design and analogue gauges for the least trouble and ease of trouble shooting.
All aluminum cabinets and electro-plated internal metal components for corrosion protection and light weight.
Easy access to all internal components for servicing, including quick access slide out compressor mounting.
Integrated adjustable leveling feet for the cabinet to decrease wear on compressor mounts.
Fully ventilated, filtered and fan cooled cabinet for cool operation and extended component life. Sound insulation and baffles for low noise level in manned exchanges.
Standard annual maintenance and interchangeable common components on all dryers. Standard alarms with our exclusive humidity alarm board with verification and custom alarms for monitoring systems. Highly reliable and field proven. All circuit board components used are over rated for reliability. To minimize expertise and training required for field technicians only the humidity board and timers are electronic and are easily field replaceable. The electrical system is designed for reliability and ease of troubleshooting. No major expertise in electronic circuits is required and no electronic control boards are used as this is a constant problem.
A minimum of moving parts and control systems for highest reliability.
All dryers can be built to customer specifications and/or geographic region for different altitudes.
Complete installation kits and hardware for electrical hookup with circuit breakers, audio-visual alarms and air line attachment to panels for all dryers is available. Manifolds, pressure flow controllers and panels are available for a complete package. Canadian Puregas provides complete system design and consultation.
Full service and troubleshooting manuals with each dryer which are available in English or Spanish. Full service maintenance trouble shooting and help at no charge via telephone. Maintenance courses for you technicians as required.
Local spare parts stock and service help as required.
---
---
Back to Canadian Puregas home page | E-mail Canadian Puregas
---
---
canadian puregas equipment limited
---